Someone once said to me that a company may date the lighting manufacturers but they ultimately marry the controls company. That may be a bit of an overstatement, but like many things in life there is an element of truth. Controls will be the piece that customers interact with on a daily basis, so it's important to pick one that is compatible with your needs and one that makes life a little bit easier.
This leads us to the all-important step of deciding which controls platform to commit to and how to make sure you don't regret the decision.
Controls is an all-encompassing word that can refer to something as simple as a wall switch, something as complex as a DMX platform in a theatre or as high-tech the latest Internet of Things (IOT) systems that are controllable from your iPhone anywhere in the world.
First it's important to ask yourself some questions that ultimately frame where to go.
Does your interest in controls stem from the information the system can provide or do you just want to meet code?
What will you do with the information that is provided? If you have access to sensor data, will you tune the lighting schedules in response to the sensor feedback?
What is your controls budget?
Do you know what zones of control you need?

Do you want every fixture dimmable and adjustable or
Do you just need circuit based on/off control or
Something in between (i.e. all the lights in a given room behave the same).
Cascade Lighting represents a number of great controls companies, several of which are well integrated into the lighting fixtures they provide (i.e. LSI and GE); other independent companies such as Enlighted and Leviton work with any lighting fixture.
---
A Working Model for how to think about Controls
It helps to break down the concept of controls by putting the pieces into two camps. There are pieces and parts that generate "stimulus" and there are pieces and parts that create a "response". Ultimately there is a "Linkage" that binds these two.
Stimulus includes: Photocells, (day)light sensors, occupancy/vacancy sensors, wall switches, scheduled events, and sometimes less common sensors like fire alarms, carbon monoxide sensors, and even acoustic or traffic sensors.

Responses include: individual on/off/dim levels, group on/off/dim levels, informative events such as email and text alerts.
More sophisticated systems (the IOT types) will also "mine" and "present" data via web browsers or formatted reporting mechanisms which can be a "wonder-tool" for executives. This information and remote control is often available from any web appliance such as an iPhone, iPad or laptop, anywhere in the world.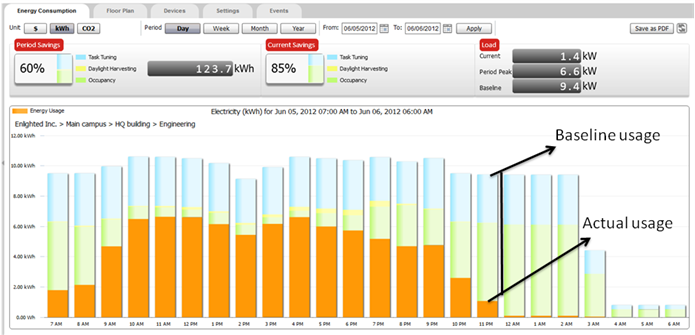 The Linkage that connects the stimulus and response is the software embedded in the physical controller or in the system that creates the 'virtual circuits'. For example in more sophisticated systems a wall switch on one physical circuit can control fixtures on a completely different physical circuit by adding a communication layer (mesh network, LumaCan) overtop of these physical circuits. This is very useful when you have facilities with different voltages (i.e. 277VAC, 120VAC) which will always be on different circuits.
---
Now that we have an overview of controls systems, let's start with the assumption you are more focused on cost and code compliance (C-Class) vs. features and information (F-Class).
"C" Class – Cost Centric & Code Compliant Solution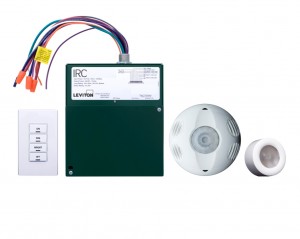 Leviton offers a number of great solutions here including the "plug and play" IRC – In Room controller. This is a contractor-friendly solution that will automatically commission itself by monitoring the ambient light over a 24-hour cycle, adjusting the daylight sensor, responding to an occupancy sensor or wall switch sensor. This is a GREAT solution for "quick and simple" projects and has been a tremendous seller in California where Title 24 is now in full effect. This is ideal for office buildings, classrooms, and retrofits where existing fixtures are not being replaced.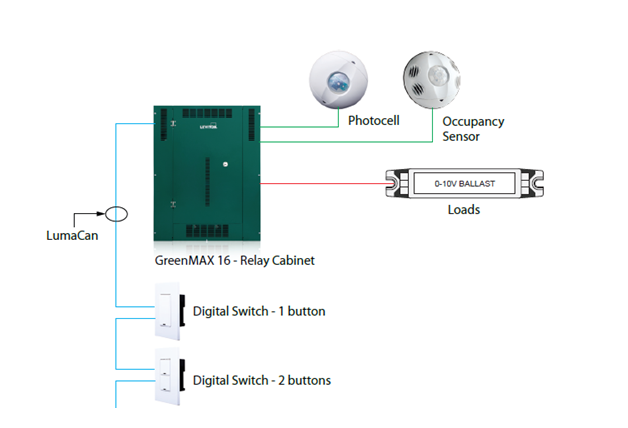 Leviton also offers a great panel based controls solution – The GreenMax Relay cabinet that requires factory commissioning (setup) but is very easy.
The example above shows several of the components that support "stimulus" pieces located throughout the facility and linked together by the LumaCan communication wires over standard Cat6 cables. The "response" is then all managed through the central microprocessor board (the "Linkage") hosted in the GreenMax cabinet that supports on/off/dim level control to each of circuits hard wired to it. The LumaCan control interface is a fully expandable network that supports many types of sensors.
---
Now let's assume you need a more flexible and informative system.
"F" Class – Features, Flexibility & Future proofing Solution
Enlighted offers an amazingly simple and elegant solution for an informative and flexible Building Management System (BMS). For each project you will need three components: Controller & Sensor (or CS module), Gateway, and Energy Manager. Let's look at each of these three elements in detail.
1- The system needs one CS module per fixture or group of fixtures
Below are the 3 types of sensors (high bay, office and outdoor)

The CS Module (Controller+Sensor) attaches into the fixture & ceiling like this:

Or both collectively into the fixture like this:

The sensor is all but invisible in the ceiling as seen in these pictures from an installation at a social media company headquarters:
The control unit (shown to the right) can also be put in a junction box if it does not fit into the manufacturers' fixtures. It hosts an internal microprocessor to manage responses to stimulus as well as hosting a schedule and a revenue-grade power meter to support the collection of data and power usage.
2- The system also needs one Gateway unit (GW) per Floor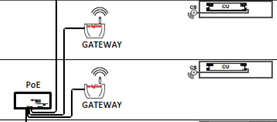 The diagram to the left highlights how one gateway "channels" all the RF communication for up to 250 CS modules on that floor, back through a POE (Power Over Ethernet) switch using standard Ethernet Cat6 wiring to each gateway and wireless (Mesh Networking) to each of the CS modules. This hybrid architecture ensures reliable robust communication.
3-Finally, the system needs one Energy Manager (EM) per Building

The Energy Manager is the final piece of the Enlighted three-tier architecture. It hosts all the software and communication management to support the acquisition and presentation of what is happening in your facility: everything from sensor data and feedback, schedules at each fixture or the energy saved over a given period of time. This information is often a key element in deciding to adopt the "F" class as the data can be used to verify energy saved from the adoption of controls and lighting.
---
CALL US!
Cascade is in a unique position to support whatever your requirements are for all of your controls needs and answer any additional questions you might have. Our staff is well versed in the specific details of each solution and how it can map to your requirements and needs.
OR: 503.242.2522